1996-present
Edit
This is the main style of Handy Dandy Notebook used since when Blue's Clues first premiered in 1996 which was the introductory year of eyebrowed McDonald's buildings.
2002-2006
Edit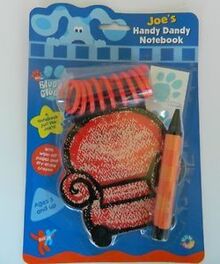 From 2002-2006 They have also made an additional notebook that looks like Joe's when Joe was substituting for Steve the main host while he is in college.
Ad blocker interference detected!
Wikia is a free-to-use site that makes money from advertising. We have a modified experience for viewers using ad blockers

Wikia is not accessible if you've made further modifications. Remove the custom ad blocker rule(s) and the page will load as expected.